by Tim Zwart – Acton, ON
Imagine a world where you could take the best of everything and deposit it all in one centralized location. In this utopian experiment, you may find Canadian beer and maple syrup, French pastries and breads, Italian pastas and pizza, or any number of dishes that one might expect to see at a giant, global buffet. But what are the factors that make these things iconic and known the world over? Well, for starters, you have to be better at something than anybody else. Then you have to bring it to the masses.
Dave Copperthwaite is a man who embodies this line of thinking. His epiphany came one day while traveling to Buffalo, NY with his daughter and her rep hockey team. A common stop during these frequent visits to the States was a little place called Frank and Teressa's Anchor Bar, home of the original buffalo wing. The family couldn't stop raving about the food, service and atmosphere each time they returned home. The portions were generous, the burgers were amazing, and those wings…oh, those wings were to die for. Never one to miss out on an opportunity, Copperthwaite decided that Canada needed a place like this. And so, after months of approaching and negotiating with the owners, he was finally able to acquire the exclusive franchise rights to Anchor Bar in Canada; and on October 27, 2016, he opened his flagship store in Burlington, ON.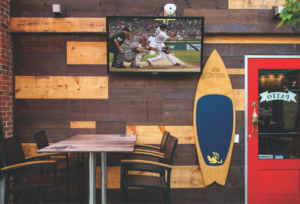 Stepping foot inside Anchor Bar is a feeling like no other. You are immediately hit with the sense that something is different here, that the place seems to operate on a level somewhere between a mainstream franchise and a small, mom-and-pop diner. You are greeted and engaged from the moment you arrive, and the unity of the staff is truly an amazing
thing to behold. This isn't one of those places where a handful of waitresses and bartenders are running around like stressed out and overworked caffeine addicts. The team is well-stocked to provide intimate and individually-focused service, often a rarity for an establishment of this size. And once you're seated and the food starts coming, you are in for quite a treat.
The calling card of Anchor Bar is their chicken wings, and they do not disappoint. Large, meaty and plump, these bad boys are shipped fresh from local Quebec farms, and are consumed at a rate of 750-800 pounds a day! Smothered in their signature sauces, still shipped in directly from Buffalo and available to purchase, sitting down to Anchor Bar wings is like kneeling to pray at the altar of Wingdom. But if wings are not your thing, don't worry…there are plenty of other options. The Anchor Bar features a dynamic selection of pizzas (made fresh with flour imported from Italy), juicy and hearty Canadian AAA burgers, and some of the best poutine outside of Quebec. And there is no better place to enjoy your meal and the totality of the experience than on their brand new outdoor patio.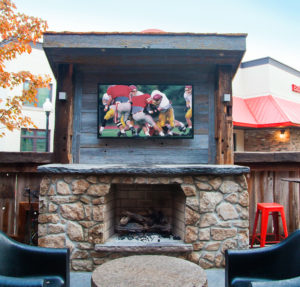 Designed and built by Natural Landscape Group, Copperthwaite spared no expense in making this a unique space unlike anything you will ever see. Upon this L-shaped template, every luxury and cutting-edge piece of outdoor technology was placed: Misters by Universal Misting Systems that kick-into action when a certain temperature is reached, multiple Sunbrite outdoor TVs…designed to be anti-glare and to withstand the elements, beautiful custom stone and brick work, a large, gorgeous outdoor Isokern fireplace, space and mood lighting, and a custom made water feature that is breathtaking.
Family owned and operated (Dave's daughter, Shaina Eva, is the VP of Operations, and his son, Chandler, is the Executive Chef), they have since expanded to another location in Hamilton, ON, with plans to open twenty more stores across the country in the next five years. So get ready Canada, a storm of great food is heading your way. You're going to need a good anchor.