By Laura Stanley – Toronto, ON
Balance is essential for Sarah Blackwood and Gianni Nicassio, members of the Juno Award winning band Walk Off The Earth. Whether it's releasing imaginative cover songs, WOTE found sudden stardom in early 2012 when they released a video of their five band members using one guitar to perform Goyte's "Somebody That I Used To Know." Whether recording their infectious original tracks or playing energetic live shows around the world, the band is always on the go. Amongst this chaos, Blackwood and Nicassio are raising their two sons, three-year-old Giorgio and one and a half year old Luigi.
"There's possibility for balance in everything. Including raising a family and continuing to work," says Blackwood. "We also involve our kids in our work, and encourage them to be creative and free. That is something we're grateful for every single day."
"Gianni and I have an incredible understanding of each other's capabilities and are quite good at recognizing when a certain area needs more balance then others," she adds. "We're a team, as parents, as coworkers, and we make things easier for each other in areas where we know our strengths are."
WOTE began in 2006 in Burlington, Ontario as a project between Nicassio and Ryan Marshall. By 2011, fellow Burlington locals Blackwood, Mike Taylor, and Joel Cassady solidified the line-up. Together the band has released two collections of cover songs (Vol I. and Vol II.) and two full-length records, R.E.V.O. and Sing It All Away.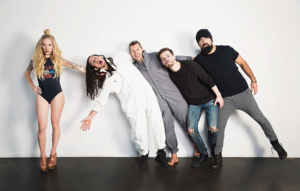 Both Blackwood and Nicassio had positive experiences growing up in Burlington, Ontario and credit the city's lengthy, and often uneventful, winter for helping to foster their creativity at a young age. "In the long winter season there isn't much to do, so playing ice hockey or learning your favourite instrument were pretty much my two choices," says Nicassio. "I figured out at an early age that my skating abilities were not as superior as some of my buddies."
When not out on the road together, Nicassio, Blackwood, and their children live in nearby Dundas, Ontario – "the hidden jewel of Southern Ontario," as Nicassio describes it.
"It has some of the most spectacular views of the escarpment," he says. "It's filled with beautiful trails through the Royal Botanical Gardens and the Bruce Trail. The waterfalls are some of the highest in the country! You feel like you're in cottage country, but you are conveniently nestled between 2 major cities – Hamilton and Burlington."
With another busy year ahead, WOTE have plans to release several new singles, more covers and original videos, a short film, and a world tour. Blackwood and Nicassio's schedule remains hectic but they are not complaining. The couple is fuelled by the love they have for making and sharing music and also look to each other to keep motivated. Their passion for music and determination to think outside the box illuminates everything that WOTE touches with a positivity that is infectious – something the world is in need of right now.
"We get to do what we love and hopefully inspire positivity in people with our art," says Blackwood. "A lot can be projected through music, art and creativity and we are just so happy to be on that boat! It's important to us to help people see that we can find happiness. It's not easy for a lot of people to be grateful for what they have and see how wonderful life is…we hope our music can help change that point of view."