By Lori Sweezey – Dundas, ON
There are millions of people who go to work every day. And that job is nothing more than a means to an end for most. But for Silvan Nerhati, his job is his passion. Some would say "it's just a paint job," but Nerhati is an artist and with every paint job he takes on, he brings with him a Picasso-like mindset and a sense of pride and professionalism rarely found in the industry.
Born in Albania in 1976 to Agata and Roky, Nerhati is the youngest of four children. His childhood was spent playing soccer and he had dreams of becoming a professional. But his life took him in a completely different direction.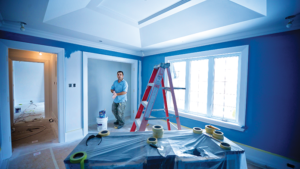 He eventually moved to Italy for a period of time, then to the U.S. and finally he planted himself firmly here in Canada.
"I loved Canada and wanted to stay here."
He worked many construction jobs when he was growing up and knew that he'd end up in this field of work. While in New York, a friend hired him to paint, and this is where he learned and perfected his craft. A craft that he is extremely good at!
Nerhati loves to travel and enjoys meeting people from all walks of life. His love of soccer hasn't changed much from the days he ran on the fields himself. He always enjoys a good tournament.
Nerhati has been self-employed since 2000 and has grown his business into a very successful one. He enjoys what he does to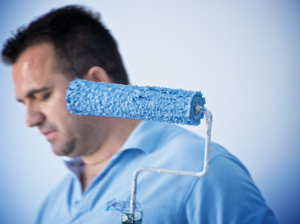 no end, and connects with his clients, challenging them to think outside of the box and be a little more daring in their choice of colours. He has vision and he easily knows what people will like… many times before they do!
Where does he see himself in 10 years from now?
"I'll still be my own boss. My business will be bigger and I'll be flipping homes…and I already know who will handle the painting. I'll still be working hard and I hope to be sharing my knowledge and skills with the next generation."
His Favs
Food:  Steak
TV show:  Sopranos
Music:  Old School Jazz
Holiday:  Christmas
Beverage:  Red WIne
Piece of clothing:  A Good Suit
Time of day:  Morning
COLOUR:  Blue
Place to travel:  Jerusalem
Hero/Mentor: My Dad
PASTIME:  Reading and a glass of Hennessey
Recipe
EASY PAINTERS PASTA
Small bunch of basil, finely chopped
2-3 cloves of garlic – crushed
1 cup of virgin olive oil
2 cups of cherry tomatoes – halved
Salt & Pepper to taste
1 cup of fresh mozzarella – grated
Directions:
1. Put all ingredients (minus the cheese) into an air tight
    container and set aside for several hours at room
    temperature to marinate.
2. Boil pasta to desired consistency and drain.
3. Mix the marinated sauce with the pasta.
4. Top with fresh mozzarella.
5. Enjoy!