By Susan Mate – Calgary, AB
If  beauty is in the eye of the beholder, no more is it so than with public art. Few aspects of urban life are capable of engaging the adulation or ire of a citizen more than the city-funded murals, sculptures, light displays and other art rising up across Canada.
Over the past three decades, civic art collections have become an engaging and at times controversial mainstay in major metropolitan hubs. Critics assail publicly funded art as a frivolous and an unnecessary tax grab, while proponents praise its ability to revitalize tired city cores.
Chances are you see public art every day on your transit commute, or as you zip in your car along freeways, past bridge decks and through underpasses. It takes shape as brightly painted utility boxes, gravity-defying light fixtures or an unexpected splash of colour stenciled on the pavement in the middle of your street.
It brightens the faded grunge of old buildings in shipyards, railway lines and warehouse districts, and embosses the glass of transit shelters through a city core. It's the towering sculpture you walk past on a bike path, or the curved edge of a staircase that winds unexpectedly up the flank of a downtown office tower.
"Essentially, public art is your story," says Julie Dupont, portfolio manager for the City of Ottawa's Public Art Program. "It's about you as a community, who you are and where you have been."
You see public art each week on CBC during the The Mercer Report, as he rages colourfully about topics of the day along Graffiti Alley in downtown Toronto. Canada's largest city promotes its popular public art through the StreetARToronto or StART program.
Ottawa's public art program, which was founded in 1987 and is Canada's oldest, is best known for its rich presence at city hall. It includes quiet areas indoors and throughout the grounds outside to offer city staff and the public a place to rest and reflect. There are similar programs in Quebec. Montreal's collection includes more than 600 pieces by nearly 400 artists – as well as Winnipeg, Regina and Saskatoon.
Edmonton and Calgary's collections are a varied mix. In downtown Calgary, the glow of Luminous Crossings – an unusual, shape-shifting display that signals LRT traffic at night, illuminates the free-fare C-Train zone along Seventh Avenue. Calgary's best-known piece is still the contentious Giant Blue Ring, hanging in solitude above a north Calgary industrial corridor. Built in 2014, it sparked an immediate outcry due to its Spartan form and $470,000 price tag.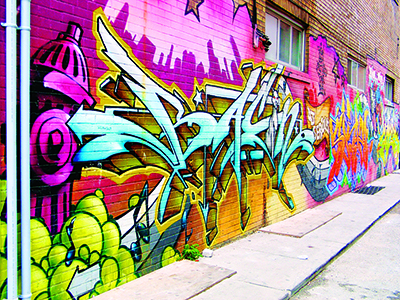 Public art programs are credited for curbing vandalism, reviving tired historic areas and adding splashes of colour and form to everything from transit stations to abandoned buildings or even bridge decks. An unanticipated bonus: public art taps into the well-known fact that street artists loath any damage to work done by their peers, and it saves municipalities countless dollars in costly graffiti re-moval.
"We don't often see graffiti defacing public art," says Sarah Iley, manager of culture for the City of Calgary. "There seems to be a hesitation to do that by vandals." She says Calgary works closely with community organizers, citizens, interest groups and building partners when identifying art opportunities during the planning of new projects.
The widespread interest in public art has led to the formation of a national non-profit umbrella group, the Creative City Network (www.creativecity.ca), to help member cities to share ideas, lessons, best practices and common hurdles. The organization also has a working relationship with Americans For the Arts, a U.S. interest group founded half a century ago.
In both countries, public art programs have grown from the domain of major metropolitan areas, to embrace significantly smaller cities and towns. About two-thirds of municipalities across North America have some form of public art program, with most establishing funding guidelines at a rate of one-half to two per cent of the cost of new capital projects.
"Here in Calgary it's an opportunity, (when we are building a lot of infrastructure), to be able to look at ways to infuse it with colour and light," notes Iley, who researched public art three years ago when Calgary was reviewing its arts program and master plan.
"Community engagement is extremely important in every single new project we do. And it's important to the people who live here."
On new projects, the city will occasionally accommodate concession requests from a builder/developer such as extra space for parking, by trading green space, a playground or additional art, in the design. Iley says there is widespread support by Calgarians for taxpayer funded artistic pursuits. "People want public art. They want it in their LRT stations, in their plazas and on their streets. It's an important part of a community."
Pieces are generally commissioned through the posting of bids when a new capital project is being planned. Art schools are also a resource for municipalities – the prospect of earning a few hundred dollars or having their work showcased on a utility box, for example, has huge appeal with emerging artists such as students or recent graduates. Mentorship programs have also been developed to match young artists with more established counterparts to collaborate on projects.
Public art can also generate dollars for local merchants. Tour operators in Toronto, Ottawa and Edmonton, for example, offer guided tours of top art sites (such as Mercer's Graffiti Wall). They shuttle visitors on foot or by bus around the city's most photogenic or storied sites.
"We're also seeing that public art has other benefits, too, like improving the user experience on public transit, giving people a place of refuge or safety," says Ottawa's Dupont. "It can also become an oasis or haven for people, as it has at our city hall. It's part of their daily life."
In Edmonton, which boasts an extensive collection of vibrant paintings by First Nations artist Alex Janvier, the arts have long been a major part of the festival city's urban identity. But it can also make a social statement.
Mayor Don Iveson says public arts give a needed voice to artists such as Janvier, a well-known social justice advocate and survivor of Canada's failed residential school system. His work, on display in the new Rogers Place convention center/stadium, also hangs in the National Gallery of Canada.
"Working with such a prominent, internationally recognized, indigenous artist sends a signal (not just to our unwavering one-percent policy in public art commitment), but also to using those investments in art to spark conversation," says Iveson, a strong proponent of public art funding. "To have this symbol of convergence, vibrancy, diversity, celebration and beauty right at the center of it all, is an appropriate symbol."