By Kelly Buell – Ottawa, ON
There is no greater gift than discovering your passion in life. We all aspire to do something great with the time we've been given, but how many of us actually reach that summit? And if not, what's holding us back?
For Ottawa's Rene Rodriguez, Owner and Chef of Navarra Restaurant, this passion was discovered early in his childhood, and a life long love affair with food was the result. Watching his Mother and Aunt in the kitchen inspired him, and Rodriguez quickly learned how to duplicate a lot of the dishes they created with ease. This would be the beginning of a food obsession, and with this foundation in place, he began to take things a step further. From these traditional dishes he experimented with different ingredients, techniques, and presentations… his creativity growing and expanding with each new trip to the kitchen.
A day in the life of Rene Rodriguez looks very much like an organized tornado. Rodriguez, the calm in the storm, manages family and business time seamlessly… his schedule running like a well-oiled machine. Family is always first, and he sets aside time to start his day with them every morning, before moving on to answering business calls and managing restaurant business duties. At the end of the night, when the restaurant is quiet and the last burner has been turned off, he finishes off right where he started… spending quality family time with his supportive wife and young son.
For personal pleasure, Rodriguez and his family enjoy taking daytrips or hiking and walking in the woods around Gatineau. He also tries to squeeze in workouts and ride his motorcycle, just to let loose a little.
Outdoor Lifestyle Magazine wanted to take a closer look at the culinary world through Rodriguez's eyes, so we sat down with him to ask some spicy (pun intended) questions about his life and career.
Question and answers with Rene Rodriguez
OLM: What is the craziest thing you've ever done in your life?
RR:  I think it was competing in Top Chef Canada. Being away from everything… my family, my restaurant and my friends,  felt a bit strange. We were so isolated for seven weeks… no contact with our relatives or friends, no cell phones… nothing. It was very long and stressful. We only slept like five hours a night. But it was exciting and a very cool thing to do.


OLM:  How did you feel when you won Top Chef Canada 2014?
RR:  I felt like everything was coming together. It was almost a revelation in front of my eyes. Everything I'd ever wanted and worked so hard for (over the last twenty years) was suddenly happening. It was a reassurance of who I am and who I was and it felt really incredible.
OLM:  What is the most encouraging thing anyone has ever told you?
RR: Someone once told me, "don't ever quit, because that's the easy way out."  So, if you fail at something and you turn around and walk away, you are letting go of a dream. If you stay there and keep trying, you can make it happen. So you should never quit. Be persistent and be very determined. 
Rodriguez is both of these things. We have no doubt Navarra will be a great success. If you're in the Ottawa area, drop in!
navarrarestaurant.com
A recipe to get your taste buds dancing
CHIMICHURRI
MUSHROOMS
with
GRATED MANCHEGO
Ingredients:
1  bunch green onions, (green part only)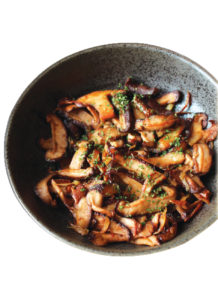 ¼ bunch cilantro
¼ bunch flat-leaf parsley
½ cup (125 mL) chicken stock
½ cup (60 mL) extra virgin olive oil
3  tbsp (30 mL) lemon juice
2  tbsp (15 mL) HP Sauce
1  tsp (5 mL) sea salt
¼ cup (60 mL) unsalted butter
4  cups (1 L) cleaned mixed mushrooms, such as chanterelle, king, shiitake, baby blue oyster, and coffee mushrooms
2  tsp grainy Dijon mustard
Finish with
1 cup grated manchego to garnish
TO MAKE:
1. In blender, add green onions, cilantro, parsley, garlic, stock, olive oil, lemon juice and HP Sauce. Purée until smooth, add salt, and set aside. This is your chimichurri sauce.
2. In large frying pan add butter and cook until almost brown. Add the mushrooms and stir-fry them in pan for 4 minutes or until all are soft. Add the chimichurri and sauté for 2 minutes. Serve immediately, while hot and sprinkle manchego on top. Serve with warm baguette slices.